Influenza (flu) can be a serious illness, especially for older adults. According to the Centers for Disease Control and Prevention (CDC), only about half of Americans get vaccinated for the flu every year.[1] Even more alarming, the majority of flu-related hospitalizations and death are from people 65 years and older, simply because as we age, our immune response is weaker.[2]
Because of this, new for the 2022-2023 flu season, the CDC's Advisory Committee on Immunization Practices (ACIP) has recommended that those 65 years and older receive high-dose or adjuvanted flu vaccines instead of the standard flu vaccine. These include[3]:
If these recommended vaccines are not available when you get your flu shot, go ahead and get the standard flu shot as it will at least provide protection. An annual flu vaccine is the best way to reduce your risk of getting the flu and reduce the severity of the illness if you should get sick.
Get the Flu Facts
Fortunately, these concerns and misconceptions can be addressed, and once you understand the reality of how flu shots can help, you should be more inclined to get vaccinated.
1. BELIEF: Side effects may be harmful
REALITY: Side effects are few, mild and last only about one or two days
After hundreds of millions of doses of flu vaccines delivered in the U.S., the CDC can safely say that flu vaccines have an excellent safety record. However, you could experience any of these mild side effects for one or two days: soreness, redness, and/or swelling at the injection site (from the shot); headache; low-grade fever; fatigue; nausea; and muscle aches. The high dose and adjuvanted vaccines may result in more of these mild side effects.
2. BELIEF: Vaccines are ineffective
REALITY: The vaccine is proven to reduce the spread of flu and minimize its symptoms
The CDC says it evaluates vaccine effectiveness every year, and recent studies show that flu vaccination reduces the risk of flu illness by as much as 60% among the overall population when the vaccine is well-matched to circulating viruses.
3. BELIEF: Vaccine causes the flu
REALITY: People do not get the flu from the vaccine
It takes about two weeks from the time of vaccination for the body to develop immune protection, so it's possible to get infected with the virus during that time. The immunization that is administered with a needle (i.e., a shot) is made with either inactivated viruses or with only a single protein from the virus. The nasal spray form contains live viruses that are weakened so that they will not cause illness.
4. BELIEF: I won't get the flu
REALITY: Flu vaccines protect you and others
You may have never gotten a flu shot and have managed to avoid contracting the illness. However, you could be asymptomatic and still spread the virus to others who are at risk for severe health complications. Additionally, getting the flu shot doesn't mean you can't get the flu. You may still get the flu but having had the vaccine may make the severity less. There are prescription drugs that can treat the virus. If you have flu symptoms, even if you had a flu shot, call or visit your doctor. The sooner you get treatment, the less severe your symptoms may be.
5. BELIEF: I got a flu shot last year so I don't need one
REALITY: A flu vaccine is needed every year.
Your immune protection from vaccination declines over time so for your best protection from the flu virus, you need an annual vaccine. Also, the strains of the flu change constantly, and vaccines are updated to protect against the most common strains of the virus in the upcoming flu season.
When Should You Get Your Flu Shot?
In the U.S., fall and winter months are typically considered flu season. That's why the CDC recommends flu vaccination for everyone aged six months and above (who don't have contraindications) starting as early as September. With peak infections occurring from December to February, it's best to get vaccinated before the end of October so your body has time to develop the protective antibodies.
For more information about the flu or the vaccine, call 1-800-CDC-INFO or visit http://www.cdc.gov/flu/.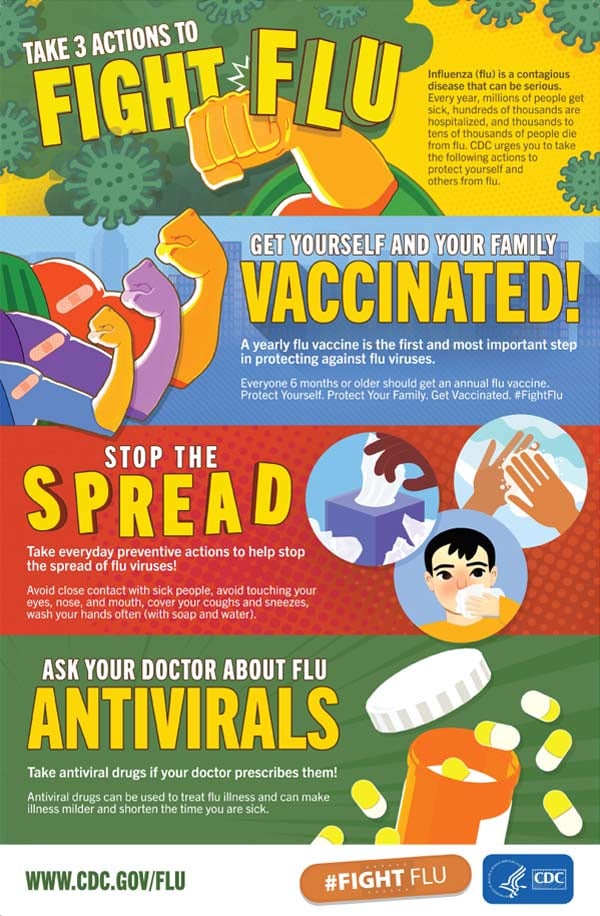 [1] Centers for Disease Control and Prevention: Flu Vaccination Coverage.
[2] CDC, CDC Director Adopts Preference for Specific Flu Vaccines for Seniors, https://www.cdc.gov/media/releases/2022/s0630-seniors-flu.html
[3] CDC, Fluzone High Dose Seasonal Influenza Vaccine, https://www.cdc.gov/flu/prevent/qa_fluzone.htm
This Newsletter may contain links to other websites and resources provided by third parties, these links are provided for your convenience only. This includes links contained in advertisements, including banner advertisements and sponsored links. We have no control over the contents of those sites or resources, and we accept no responsibility for them or for any loss or damage that may arise from your use of them. If you decide to access any of the third party websites linked in this newsletter, you do so entirely at your own risk and subject to the terms and conditions of use for such websites.
S7694_22-7025_enewsletter 2022_C Reviewed 09/20/22
Elixir Insurance is a Prescription Drug Plan with a Medicare contract. Enrollment in Elixir Insurance depends on contract renewal. For more information, please call our customer service number at 866-250-2005. TTY users call 711. We are available 24 hours a day, 7 days a week. ATTENTION: If you speak Spanish, language assistance services, free of charge, are available to you. Call 866-250-2005 (TTY: 711). ATENCIÓN: si habla Español, los servicios de asistencia lingüística, sin cargo, están disponibles para usted. Llamada 866-250-2005 (TTY: 711).
Elixir Insurance, 8921 Canyon Falls Blvd., Suite 100, Twinsburg, OH 44087, United States