Many of us have been cooped up for months due to the COVID-19 pandemic, but now, with warmer weather, COVID-19 vaccinations and fewer restrictions in some locations, it may be time to get out of the house – if only for a quick trip around your local community. (Remember to take all required COVID-19 precautions for your area.) You may even be able to score some senior savings.
Here are 5 ways you can get out of the house without breaking the bank.

1. Dining Out: Many local and chain restaurants offer discounts to seniors every day. Discounts may be available for those aged 55 and over, but often, the age requirement is 60 to 65. Because offers vary by location, be sure to ask if a discount will apply. And if the weather is nice in your area, consider dining outdoors to minimize COVID-19 risks.
In some cases, you may have to order from a specific menu, such as iHop's 55+ menu, which includes several options at reduced prices for those 55 and older.
Most often, however, you can get 5% to 10% discounts at the time of ordering. This type of discount is available at many popular eateries, including most Golden Corral restaurants, but some chains have discontinued senior discounts in favor of loyalty programs available to all customers.

2. Retail Therapy: Department stores, grocers and other retail venues that offer senior discounts usually limit them to certain days of the week. There may be other restrictions, and offers may vary by location. Here are a few examples that we found; ask for details at the stores.
Kohl's gives seniors age 60 and older a 15% discount every Wednesday on in-store purchases.
Ross Stores (Ross Dress for Less), through its Every Tuesday Club, offers 10% off to shoppers age 55 and older on Tuesdays.
Many grocers, including Bi-Lo, Harris Teeter, and others have weekly senior discount days for those 60 and older. Membership in the stores' loyalty or senior program may be required.
Rite Aid, through its wellness65+ program, gives those aged 65 and older a generous 20% discount on in-store purchases on the first Wednesday of every month. Sign up for the wellness65+ club in stores to get started.*
Outdoor markets and garage sales are probably not known for senior-specific discounts, but you should be able to snag some great deals while minimizing COVID-19 risks.
3. Cultural Events and Entertainment: Depending on your location, you may be able to find a wealth of options with senior discounts. Check your community calendar, convention and visitors bureau, or other local sources for information.
Outdoor concerts typically start in late spring and run through early fall. Many communities host outdoor concerts at no cost. In addition, due to COVID-19, many well-known performers have been scheduling outdoor/drive-in concerts, some of which include discounted tickets for seniors.
Drive-in movie theaters, if you any in your area, are probably already open for the summer season.
Museums, art galleries, festivals and other attractions are very likely to offer discounts to older patrons. Visit the websites of the various options in your area to find discounted ticket prices for seniors.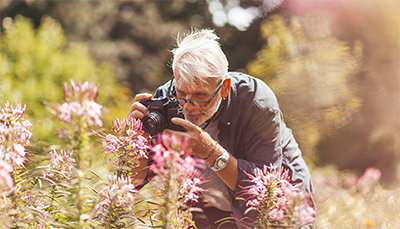 4. Exploring Nature: June is a wonderful time to explore your local parks and walking trails, National Parks, zoos, botanical gardens and the beach. Most, if not all, of these options offer senior pricing, and admission to most National Park Service sites is free. However, if you want to visit National Parks with entrance fees, consider a National Parks and Federal Recreational Lands Senior Pass. The annual pass is $20, and a lifetime pass is $80. Visit the National Park Service website to learn more.
5. Sporting Events: There are many options available from spring through fall, so if you have teams or sporting venues in your area, check for discounted tickets.
Baseball and softball are well under way and will last throughout the summer. Even if no discounts are available, local high schools and colleges should have affordable entry fees. Major League Baseball teams usually offer at least one senior discount day during the season while most minor league teams offer discounts for every game.
Soccer is also underway, and like baseball, Major League Soccer teams may offer senior discount days during the season while United Soccer League teams are more likely to offer discounts for every competition.
Golf, whether you prefer to play or watch, can be made more affordable for seniors. Many courses offer lower green fees, cart rentals and other savings.
If you are ready to get out of the house and kick cabin fever to the curb, check out some of these ideas or research other options in your area. Just remember to reduce your COVID risk with open air activities as much as possible and by wearing masks and maintaining social distance.
Also, while we make an effort to share the most up-to-date information, this list is not meant to be exhaustive, and Elixir Insurance makes no representations or warranties of any kind, expressed or implied, about the completeness, accuracy, reliability, suitability or availability with respect to the information, services or stores referenced below. Any reliance you place on such material is therefore strictly at your own risk.
* Other pharmacies are available in our network. Visit elixirinsurance.com and select LOCATE PHARMACY for a complete list.


S7694_21-6200_enewsletter 2021_C


Elixir Insurance is a Prescription Drug Plan with a Medicare contract. Enrollment in Elixir Insurance depends on contract renewal. For more information, please call our customer service number at 866-250-2005. TTY users call 711. We are available 24 hours a day, 7 days a week. ATTENTION: If you speak Spanish, language assistance services, free of charge, are available to you. Call 866-250-2005 (TTY: 711). ATENCIÓN: si habla Español, los servicios de asistencia lingüística, sin cargo, están disponibles para usted. Llamada 866-250-2005 (TTY: 711).
Elixir Insurance, 2181 East Aurora Road, Suite 201, Twinsburg, OH 44087, United States